Certificate in Food & Bev, Barista, Wine & Spirits, Level 4
Full Time

16 Weeks

5 Sept 2022

NZ$3,770

NZQA Credits
Learn the practical skills to become a barista, bartender, hospo professional. Understand the fascinating world of restaurants, wine and make cocktails.
INTRODUCTION
The New Zealand Certificate in Food & Beverage Level 4, Barista, Wine & Spirits will develop practical skills to enhance your career opportunities, learn about the world of wine and spirits and build pathways to more senior restaurant and hospitality management roles. You can start your hospitality and event management career in this fast growing sector of the tourism and hospitality world.
COURSE CONTENT
Barista, Restaurant & Cafe service, LCQ
You will learn what it takes to become one of the best hospitality service professionals. We start with the Barista Intensive a two week programme where you learn about classic coffee styles, single-origin coffees, roasting styles, working with milk and milk substitues to make extraordinary coffees. Customer service, restaurant, café and sales skills form an important hands-on module of this programme. The menu component focuses on understanding culinary terms, cookery techniques, ingredients and specialist products like fresh herbs, bread and artisan cheeses. The Licensed Controller Qualification (LCQ) for the Sale of Alcohol Act 2012 qualifies you to become a duty manager for a licensed café, restaurant or bar.
New Zealand and International Wines
The Certificate in New Zealand Wine explains how to taste wine and understand New Zealand's leading wine regions and at the same time introduce you to leading international grape varieties and wine appellations. You will learn about the leading New Zealand wineries and styles of wine that make them famous. This course includes a day trip to Waiheke Island where you will visit three leading wine estates. You will gain a new appreciation of the importance of France's wine culture and complete the London based Wine and Spirit Trust (WSET) Award in Wine Level 1. This is a wonderful introduction and many of our students go on to further study and develop impressive careers in the dynamic international wine world.
Bartending, Cocktails & Mixology
In this cocktail and mixology module, you will study key bartending skills and how to make classic cocktails and those techniques of shaking, stirring, pressing and crushing. You will learn about the international spirit categories and leading brands of spirits and liqueurs. This course includes the highly regarded Wine and Spirit Trust (WSET) Award in Spirits Level 2 which is an internationally recognised qualification.
Accommodation, Superyachts & Cruise Ships
This module introduces you to guest services for hotel accommodation and interior (cabin) training for Super Yachts and Cruise Ships.
Event Management
This module is an introduction to event management and the organisation of hosting and running events. You learn about the planning and organisational aspect of events.
WORK PLACEMENT
During the programme, you will have two weeks work placement to gain hand-on experience in some of Auckland's premier cafés and restaurants. During this time you will gain real-life insights into working as a junior Front of House (FOH) staff member in a restaurant and café. Many students are offered part time work at these businesses following their work experience module.
CAREER OPPORTUNITIES
Graduates will be able to work as junior FOH, waiters and supervisors in cafés, restaurants, catering businesses, bars, clubs, luxury resorts and hotels, superyachts. NZSFW graduates, because of the highly practical nature of this course, are attractive to prospective employers.
PATHWAYS TO FURTHER STUDY
Page Updated: 11 Apr 2022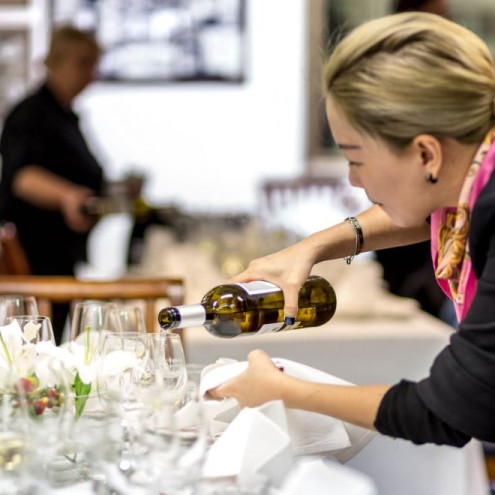 PROGRAMME START DATES
5 September 2022 - 19 December 2022

13 February 2023 - 2 June 2023
COURSE SCHEDULE
Monday - Friday
8:30 am - 2:30 pm
Work placement: 60-80 hours