Certificate in New Zealand Wine
Certificate in NZ Wine (Foundation)
This programme provides a comprehensive introduction to wine regions, grape varieties and wine styles that have made New Zealand wines famous around the world.

It covers key grape varieties and explores the significance of geography, climate, environment, winemaking techniques and the vision of leading winemakers to establish New Zealand's reputation for fine wines.
The textbook is the New Zealand Wine Guide, by Celia Hay, Director of the New Zealand School of Food and Wine. This book is included in the course fee.
The New Zealand Wine Guide 2nd edition is the Winner of the Gourmand Awards national competition for New Zealand, in category W1´8 Wine Tourism and category W3-3 Wine Photography.
COVID-19 ONLINE STUDY OPTION
The Certificate in New Zealand Wine Part One now available for online delivery. This consists of the first 4 sessions.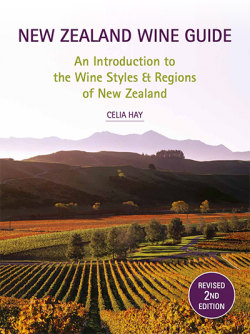 The Certificate in New Zealand Wine Advanced is available at our campus and consists of sessions 5 - 8.
Tasting Wine: For the first 4 sessions, You can purchase the wine yourself or via our partnership with Glengarry Wines.
At registration, you will be asked if you would like NZSFW to organise your wine delivery. The cost is $300 for 11 bottles of wine which includes delivery cost to residential city addresses throughout New Zealand. Additional fees for rural delivery apply.
You may like to get your bubble group together to participate in the course, allowing the cost of the wine to be shared. Each participant will need to enrol and pay the course fee to receive the qualification.
Required Technology: The class is presented online via Google Hangouts Meet and the assessment is conducted using Google Docs. You will need a computer with a Google account and a good internet connection to participate.
The sessions will be delivered over 4 evenings with Celia giving a live-streamed video presentation and tasting. The exam is a short, open book exam.
Certificate in NZ Wine (Advanced)
This course follows on from the programme above and explores in greater detail, through a series of comparative tastings, the depth and diversity of New Zealand's artisan, organic red and white wines along with sweet and sparkling styles of wine.
The development of sound tasting skills and an understanding of wine and food pairing is the goal of this programme.
With this new knowledge, candidates will improve and enhance the customer experience in their workplace and build a better understanding of this dynamic and growing sector of the New Zealand economy.
PATHWAYS TO FURTHER STUDY
You may continue with NZSFW to study for the WSET® Level 2 qualification.
CAREER OPPORTUNITIES
Although a large number of general interest wine enthusiasts join this course it is also ideally suited for those working in or wanting to work in the hospitality, wine or beverage sectors.
Qualifications Gained
CERTIFICATE IN NEW ZEALAND WINE
Certificate in New Zealand Wine Micro-Credential
NZQA Unit Standard 29926
CERTIFICATE IN NEW ZEALAND WINE (ADVANCED)
Certificate in New Zealand Wine Advanced Micro-Credential
NZQA Unit Standard 22912
Course Requirements
Aged 18 or over
Recommended IELTS 6 or Upper-intermediate level of English