Café Cooking 101
3 Days

NZ$295

On Campus

NZQA Credits
An introductory three day course teaching skills to get started with café cooking. Unit standard: 20666 level 2, credits 2
Introduction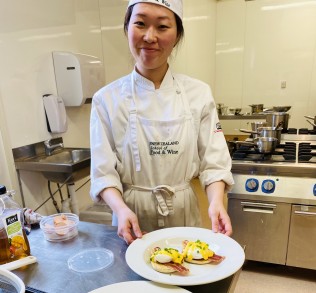 Learn some skills to get you started with café cooking. This introductory course starts with basic food safety training that you practise as you learn knife skills and how to safely cut vegetables to make salads, finished with classic mayonnaise and vinaigrette.
You will make chocolate muffins and cheese scones, vegetarian quiche and a batch of bread. We will cover cooking with eggs - poached and scrambled and making hollandaise for eggs benedict.
Bring along some containers.
Some of the recipes include -
Classic Mayonnaise
Potato Salad
Cheese Scones
Double Chocolate Chunk Cookies
Shortcrust Pastry
Eggs Benedict

You will receive a workbook with recipes and explanations of techniques and tips, NZSFW apron and a certificate on completion at the conclusion of the course.
UNIT STANDARD: 20666 LEVEL 2, CREDITS 2
OTHER SECONDARY SCHOOL COURSES
Page Updated: 22 Nov 2021
Session Dates
Wed, Thu, Fri, 1:00 pm - 5:30 pm
Enrolment
Click on the date above and this will redirect you to the enrolment form, where you can pay online. For STAR Funding, please book through your School's Careers Department.
Course Fees