Handmade Pasta
Discover how simple it is to make and cook your own fresh pasta in this hands-on weekend course.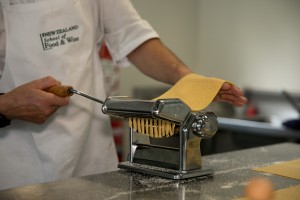 Learn the techniques of making pasta dough, rolling it out, cutting into fettuccine or filling and shaping into ravioli or tortellini, before using in a variety of dishes.
Make a range of delicious recipes to take home and enjoy, with techniques you will use again and again.
Our small classes and hands-on teaching means you'll gain practical skills and a greater understanding of the foundation of Italian food.
Recipes include:
Fresh egg pasta, with flavoured varieties
Tagliatelli with carbonara sauce
Ragu all bolognese
Ravioli with spinach and ricotta
Pesto sauce